The NEW two disc Blu-Ray with all three gore movies:
THE GORE TRILOGY
Gorgasm, Gorotica and Gore Whore is in. Includes a new documentary on the making of GOROTICA with behind-the-scenes footage of the shooting of the movie. Don't miss out! I will autograph the copy if requested. Great Blu-Ray collection, here are all the details.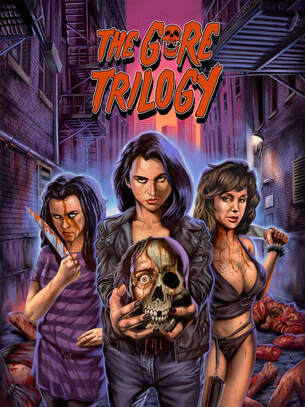 Often referred to as the "American Nekromantik", Hugh Gallagher's "Gore Trilogy" is a shot-on-analog-video smorgasbord of sleaze and blood that has shocked and delighted underground movie fans for years. Now, for the first time ever, all three movies are presented on one release! This new edition also features a 75 behind the scenes on "Gorotica", featuring fan interviews and never before seen behind-the-scenes to celebrate the 30th anniversary of the middle child of the trilogy.
GORGASM - "
Tara, a psychotic call girl, has a strange obsession with giving men the ultimate climax. Chase is a detective out to stop her killing spree."
Extras:
-New professional upscale from 2k master edit
-New introduction from Hugh
-Commentary Track
-Trailer
GOROTICA - "Neil and Max are jewel thieves working for the enigmatic Miss Miles. After their latest job goes wrong, Max swallows a large diamond, the main piece from the job, so they won't be caught with the evidence. Unfortunately, he ends up getting shot and killed by a police officer soon after, leaving Neil with a rather sticky situation- how to retrieve the diamond? Meanwhile, he's run into necrophiliac Carrie (Ghetty Chasun), who takes an immediate shine to Max, and promises to help Neil dispose of the body. Problem is, Carrie wants it fresh, and Neil needs to get inside. What to do?"
Extras:
-New 2k capture
-New introduction from Hugh
-New Commentary Track with Hugh, Mike McCarthy and Paul Woodard
-Commentary Track
-75 mins behind the scenes
-Trailer
GORE WHORE - "When a lab assistant steals an important formula and all its documentation from Dr. Whitman, he hires a bottom-of-the-barrel private eye, Chase Barr, to locate it. When Barr digs deeper into the case he finds the lab assistant is actually a dead street whore and the formula is a reanimation agent that, with the consumption of human blood, is keeping her alive! In trying to retrieve the formula, Chase is given a rollercoaster ride through hell as the whore reanimates corpses to attack him and help her hold onto the formula."
Extras:
-New 2k capture
-New introduction from Hugh
-Original Commentary Track
-Trailer
BONUS
-"Dead Silence" full length feature
-New "Dead Silence" intro
-"Dead Silence" commentary
-"Dead Silence" trailer
-Raw footage from the unfinished "Exploding Angel" feature film.
-"Exploding Angel" trailer
-Photo Gallery
-And more!
CLICK HERE TO ORDER!
Horrible Hugh's Coffin Reviews has not gone over as good as I had hoped. It may return again in the future but for now you can watch any of the 8 episodes on YouTube.
NEWEST HORRIBLE HUGH: Double feature: Zombarella's House of Whorrors and Metal Noir!
In this episode Horrible Hugh and Nails go to the drive-in to review a double feature: Zombarella's House of Whorrors and Metal Noir. This goofy episode sees a socially correct date with Horrible Hugh and his girlfriend at the drive-in, the comparison of the Ghettysburg Address to Metal Noir, a visit from Trump? Plus an interview with the director and owner of sovhorror.com Tony Masiello. This double feature has it all... maybe too much!
Find out more on the
Horrible Hugh page
! Or go to his new website at
www.horriblehugh.com
---
Doing random reviews off of Netflix, Amazon Prime, Hulu and more!
Click here
for complete listing.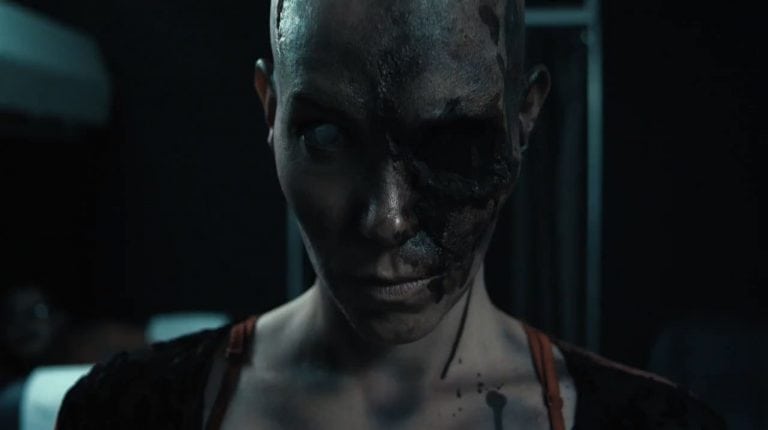 ---
OTHER MOVIES CURRENTLY REVIEWED:
---
FREE DOWNLOADS!
Now if you can open a PDF file you can view select sold out issues of Draculina Publishing magazines and comics. Check out the FREE DOWNLOAD page to see what is currently available!
CLICK HERE FOR AVAILABLE FREE DOWNLOADS!
---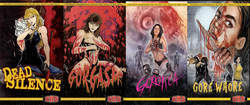 ---
GORE TRILOGY DVDs NOW AVAILABLE!
Gorgasm, Gorotica, Gore Whore and Dead Silence are now available for sale on this site! Also available, signed copies of the movies!
Check it out here!